How to Run Command for Internet Explorer? You can easily open (IE) Internet Explorer from run command by iexplore.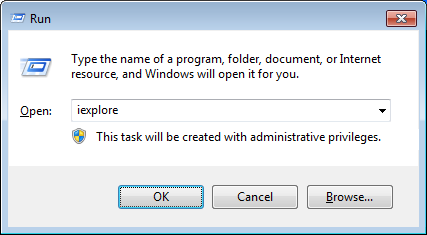 You can easily open a web page or website from a run window. Just specify and use the URL of any site/page by iexplore command. Such as, to open windowscommand-line.com, just follow the below command from Run Window. How to Run Command for Word
iexplore www.windowscommand-line.com
The above commands are working on all types of versions of Internet Explorer.
Just open internet explorer from a command prompt. Compress File from Command Line
c:>start iexplore
Just running iexplore without start would fail with the below error.
C:\>iexplore
'iexplore' is not recognized as an internal or external command,
operable program or batch file.
Check IP Address from CMD