However, the question that looms large is whether Windscribe is truly safe and secure for browsing. In this comprehensive analysis, we delve into the intricacies of Windscribe VPN, exploring its features, encryption protocols, logging policy, and overall reputation to determine whether it is a reliable choice for enhancing online security.
Windscribe VPN: Features and Offerings
Windscribe, a VPN service launched in 2016, has gained popularity for its enticing features. It offers a wide range of servers in various countries, enabling users to bypass geographical restrictions and access region-locked content. The service also provides a free tier with limited bandwidth. That's making it accessible to users who want to dip their toes into VPN usage.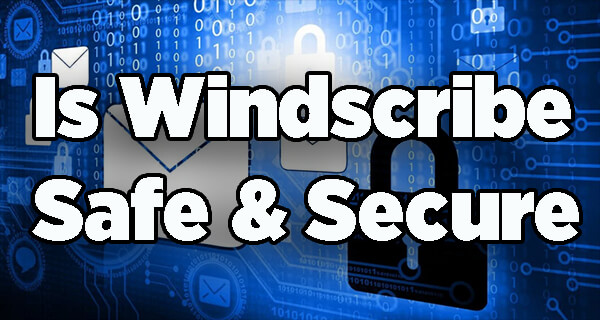 Its paid plans, however, offer unlimited bandwidth and advanced features, such as secure hotspot functionality, ad-blocking, and split tunneling. These features suggest that Windscribe aims to cater to both casual users and those seeking more robust online protection.
Encryption & Security –
One of the fundamental aspects of any VPN's security is the encryption it employs to protect user data. Windscribe employs strong encryption standards, including AES-256 cipher with SHA-512 authentication and a 4096-bit RSA key exchange. These protocols are considered robust and industry-standard. This is ensuring that data transmitted through the VPN remains highly secure and virtually impossible to decipher by unauthorized parties.
No-Logs Policy: Privacy at the Forefront –
Privacy-conscious users often scrutinize VPN providers' logging policies to ascertain the level of anonymity they can offer. Windscribe's "No-Logs" policy is prominently advertised, assuring users that their online activities are not logged or stored.
According to their policy, they do not collect connection logs, IP timestamps, session information, or browsing history. This commitment to privacy is certainly reassuring, as it aligns with the core principle of VPNs: to shield users from surveillance and data tracking.
However, it's crucial to note that Windscribe does collect minimal data, including the total amount of bandwidth used in a 30-day period and the timestamp of the last successful login. Users should know about these data points, even though they are relatively harmless.
It's worth acknowledging that this level of data collection is common among VPN providers. It is intended to manage server loads and prevent abuse.
Reputation & Transparency –
A VPN's reputation within the cybersecurity community is a crucial factor in evaluating its safety and security. Windscribe has garnered a positive reputation over the years, with users appreciating its user-friendly interface, feature-rich applications, and commitment to privacy.
The company has also undergone independent security audits to validate its claims of security and privacy. In 2018, Windscribe partnered with independent security firm Cure53 to conduct a comprehensive security assessment of its browser extensions. The audit yielded positive results, reinforcing Windscribe's dedication to transparency and security.
Can Windscribe be Trusted VPN?
Trusting a VPN service like Windscribe involves a careful evaluation of its features, policies, reputation, and transparency. Here are several factors that contribute to Windscribe's credibility and can help you determine whether it's a trustworthy option:
a) Privacy-Focused Policies:
Windscribe's "No-Logs" policy is a significant indicator of its commitment to user privacy. The fact that they do not track or store your browsing history, connection logs, or IP timestamps demonstrates their dedication to ensuring your online activities remain private.
b) Strong Encryption:
Windscribe employs industry-standard encryption protocols, such as AES-256 cipher, SHA-512 authentication & a 4096-bit RSA key exchange. These protocols are widely recognized as secure & make it extremely difficult for anyone to intercept or decrypt your data.
c) Transparency and Audits:
Windscribe has undergone independent security audits to verify its security claims. The partnership with Cure53 for a security assessment of its browser extensions demonstrated a willingness to subject its services to external scrutiny and validation.
d) Positive Reputation:
Windscribe has garnered a positive reputation within the cybersecurity and privacy communities. User reviews, expert opinions, and recommendations from trusted sources can contribute to your confidence in its reliability.
e) User-Friendly Interface:
A user-friendly interface and well-designed applications indicate that Windscribe is focused on providing an accessible and smooth experience for users. It is aligning with their commitment to providing a valuable service.
f) Wide Server Network:
Windscribe offers a wide range of servers in multiple countries. A diverse server network can improve performance, speed, and access to region-locked content.
g) Responsive Support:
Responsive customer support indicates a company's dedication to assisting users with their concerns and issues promptly.
h) Transparent Data Collection:
While Windscribe collects minimal data, such as bandwidth usage and last successful login timestamp, it is transparent about these practices and explains the reasons behind them.
i) Consistency:
Over time, Windscribe has consistently maintained its focus on privacy and security, reinforcing its commitment to these values.
It's essential to remember that trust in a VPN service is a personal decision. Carefully reviewing Windscribe's features, policies, and reputation can help you make an informed choice based on your individual privacy and security needs. Always consider your own risk tolerance, the sensitivity of your online activities, and your desired level of privacy when evaluating any VPN service.
You may also like: Windscribe Vs Mullvad VPN [Difference & Which is better security]
FAQs –
Question 1: Does Windscribe keep logs?
Answer: Windscribe adheres to a "No-Logs" policy, meaning they do not keep records of your online activities. While they collect limited data for operational reasons, such as bandwidth usage and login timestamps. This information is not linked to specific user activities. This commitment to privacy and transparency distinguishes Windscribe as a VPN service that prioritizes user confidentiality.
Question 2: Is Windscribe safe to use?
Answer: Yes, Windscribe is generally considered safe to use. It employs strong encryption protocols to secure your online data and has undergone independent security audits to verify its claims.
Question 3: Does Windscribe keep logs of my online activities?
Answer: Windscribe follows a "No-Logs" policy, which means it does not log your online activities. However, it does collect minimal data, like bandwidth usage and login timestamps, for operational purposes.
Question 4: How does Windscribe ensure my privacy?
Answer: Windscribe ensures privacy through its strict no-logs policy, robust encryption, and the use of trusted security protocols like AES-256. It also offers features like a kill switch and split tunneling for added privacy.
Question 5: Can Windscribe bypass geo-restrictions?
Answer: Yes, Windscribe offers a wide range of servers in different countries. It is allowing you to bypass geo-restrictions and access content that blocked in your region.
Question 6: How transparent is Windscribe about its practices?
Answer: Windscribe is transparent about its data collection and privacy practices. They openly communicate their minimal data collection for operational purposes while maintaining their no-logs policy.
Question 7: Is Windscribe's free version safe to use?
Answer: Windscribe's free version is safe to use and provides basic privacy features. However, the paid plans offer more advanced features and better performance for a more comprehensive security experience.
Question 8: Can I trust Windscribe with sensitive information?
Answer: Windscribe's commitment to privacy, strong encryption, and positive reputation within the cybersecurity community contribute to its trustworthiness. However, always assess your own risk tolerance and consider the nature of the information you're sharing