How to Run Command for Control Panel – Command Line or Prompt. You need to know about the run command for the control panel, and it shows you various utility configuration for administrators for your device maintenance. So you can quickly run the command forcontrol launch the panel. How to Fix Sound Problem in Windows 10, 8.1, 7
At first, open the run window from the start menu or also use the shortcut key- Windows button + R button
Then type to andcontrol hit enter.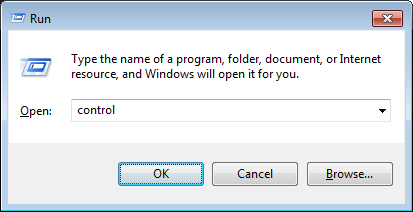 Note: This command system works on all windows edition like – Windows 7, Windows Server 2008, 2012 editions. (Also try the other version)
How to Compress File from Command Line
How to Launch Control Panel as Administrator?
You can also use the command torunas launch the program with a different user. If you want to control panel open with administrator privileges and need to use the below command, you can also run the window and would be prompted for the administrator's password.
runas /user:administrator control
Example:
C:\runas /user:administrator control
Enter the password for administrator:
Attempting to start control as user "MYPC\administrator" ...
It opens up the control panel Window after printing the above message.