Dell docking stations have become an essential tool for professionals seeking to enhance their productivity and streamline their workspace by connecting laptops to multiple peripherals and external displays. An occasional and frustrating challenge faced by Dell users is when their docking station fails to detect a connected monitor. This perplexing issue can disrupt workflow, leading to wasted time and frustration.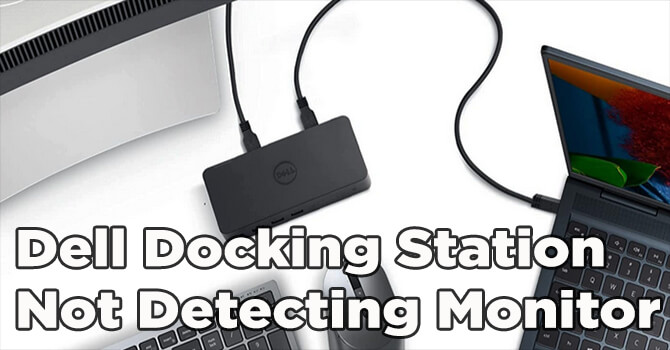 In this article, we find out into the potential reasons behind this problem and present effective troubleshooting techniques to help users resolve the "Dell docking station not detecting monitor" issue. Whether you're a business professional, student, or tech enthusiast, understanding the root causes and implementing the right fixes will ensure a seamless multi-monitor experience and keeps productivity soaring.
Let's explore the common reasons and delve into the steps to troubleshoot and conquer this perplexing problem.
Reason: Behind Monitor Detection Failure –
1. Outdated Drivers:
One of the primary reasons for a docking station's failure to detect a connected monitor is outdated drivers. Docking stations rely on specific software to function correctly, and if the drivers are not up to date, it may lead to compatibility issues, resulting in monitor detection problems.
2. Firmware Issues:
Outdated firmware on the docking station itself can also cause connectivity problems. Firmware acts as the internal software that manages the docking station's operations, and an obsolete version may not support the latest hardware or software configurations.
3. Faulty Hardware Connection:
Sometimes, the issue might be as simple as a loose or faulty hardware connection. A damaged cable, a bent pin in the docking station port, or a faulty monitor input can lead to a lack of communication between the docking station and the monitor.
4. Power Supply Insufficiency:
Certain docking stations require substantial power to support multiple peripherals and monitors. If the docking station does not receive adequate power supply, it may not function correctly, resulting in monitor detection failure.
6 Effective Ways to Fix: Dell Docking Station Not Detecting Monitor –
a) Update Drivers and Firmware:
The first step in resolving any Dell docking station issue is to ensure that both the drivers and firmware are up to date. Dell regularly releases driver and firmware updates to enhance compatibility and fix bugs. Visit Dell's official website, enter your docking station model, and download the latest drivers and firmware for your device.
b) Check Hardware Connections:
Inspect all the hardware connections carefully. Ensure that the docking station is securely connected to the laptop and the monitor is properly plugged into the docking station. Try using different cables to rule out any cable-related issues.
c) Perform a Power Cycle:
A simple power cycle can sometimes resolve connectivity problems. Turn off the docking station, disconnect it from the laptop and power source, and wait for a few minutes. Reconnect everything and power up the system. This can help reset any internal configurations that might have caused the detection failure.
d) Verify Power Supply:
If your docking station requires an external power adapter, double-check that it is working correctly and providing the required power output. Also, ensure you are using the official Dell power adapter, as using an incompatible adapter might lead to power-related issues.
e) Check Monitor Settings:
Verify the monitor settings to ensure it is configured to receive input from the docking station. You may need to change the input source on the monitor menu to match the port you used on the docking station.
f) Run Windows Troubleshooter:
You can solve the common hardware problem by using Windows Troubleshooting. You need to right click on the Start button, then choose the settings options. Next go to the Update and security, then click on the Troubleshoot. Now, you need to select the Hardware and Devices to find-out the problem by troubleshooter.
To resolve the issue of a Dell docking station not detecting a monitor via HDMI, follow these troubleshooting steps.
First, check the HDMI cable and connections to ensure they are secure and not damaged. Next, verify that the monitor input source is set to HDMI in its settings. If the issue persists, try connecting the monitor to a different HDMI port on the docking station to rule out port-related problems.
Alternatively, test with a different monitor to determine if the problem lies with the docking station or the original monitor. Updating the graphics drivers on your laptop is also crucial for proper communication between devices. Restart both the docking station and laptop to clear any temporary glitches.
Check the power supply for the docking station, as some models require an external power adapter for optimal performance. Lastly, ensure you have the latest drivers and firmware for the docking station from Dell's official website. If the problem continues, consider testing the docking station on another compatible laptop.
How to fix: Dell Dock WD19 Not Detecting Monitors –
The Dell Dock WD19 is a popular docking station that expands connectivity options for Dell laptops, offering a multi-monitor setup. However, monitors not being detected can be frustrating. We'll explore the reasons and effective fixes.
Reasons and Fixes:
Outdated Drivers/Firmware:
Update drivers and firmware from Dell's official website to ensure compatibility.
Connection Problems:
Check and secure hardware connections between the docking station and monitors.
Monitor Input Source:
Verify that monitors are set to the correct input source for the docking station.
Compatibility Check:
Ensure laptop and docking station is compatible and can support the desired displays.
Power Cycle:
Perform a power cycle to reset internal configurations causing detection failure.
Test with Single Monitor:
Check if the issue is specific to multiple displays by connecting just one monitor.
By updating drivers, checking connections, and performing power cycles, you can often resolve Dell Dock WD19 monitor detection issues.
Conclusion: A Dell docking station not detecting a connected monitor can be frustrating, but with systematic troubleshooting, the issue can usually be resolved. Outdated drivers, firmware, or hardware connections are often the issue, but by updating software, checking connections, and performing power cycles, users can effectively resolve the problem.
If the issue persists despite these steps, it may be necessary to contact Dell's customer support for further assistance or consider getting a replacement docking station if the hardware is faulty.