Are you considering building a new PC or upgrading your existing one? Perhaps you're encountering sluggish computer performance issues and need to install your motherboard drivers.
What Are Motherboard Drivers?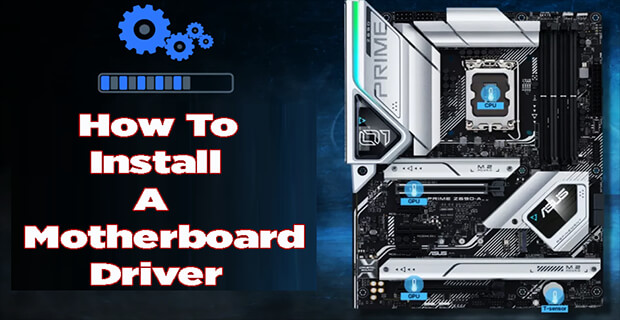 Motherboard drivers are software components that connect your computer's hardware motherboard to the system's software. They are crucial for enhancing your computer's performance and ensuring it stays up to date, as the motherboard manages the entire operating system. These drivers provide instructions on how to utilize specific hardware, unlocking unique features.
How to Install a Motherboard Drivers?
Step 1: Determine The Motherboard Driver You Need
To identify the required driver, find your motherboard's brand and model number:
Access system information by selecting the startup menu and typing "system."
Navigate to the system summary to locate "BaseBoard" information, including the Motherboard Brand, Product Code, and Version.
Step 2: Find the Motherboard's Manufacturer and Model
Determine your motherboard's type:
Access system information and search for the motherboard or baseboard information.
Find the manufacturer and version details.
Step 3: Download The Manufacturer's Drivers
Visit the motherboard manufacturer's website:
Look for the appropriate drivers in the software & drivers section.
Website detect your PC's hardware or enter your device's serial number.
Then, select your operating system & download the required drivers.
Installation files may be .EXE or zip. Run .EXE files or extract contents from zip files.
Follow on-screen instructions and restart your computer.
Which Drivers For Motherboard Are Typically Required?
To optimize your computer's components, you may need to install the following drivers:
USB driver: Manages the computer's USB ports.
Network (LAN/WiFi) Driver: Supports network communication.
Audio/Sound Driver: Facilitates audio device communication.
Storage drivers: Assist with storage device communication.
Additional drivers may be needed for components like DMA-Controller, PCI-Bridge, Clock, and PCIe-Lanes.
How To Install Motherboard Driver Via USB?
You can install motherboard drivers via USB with these simple steps:
Download driver files to your USB device.
Extract files if necessary.
Locate and run the .EXE setup file.
Follow on-screen instructions, including a system reboot.
How To Install A Motherboard Driver From A CD?
Place the CD into your computer's CD drive.
If it doesn't initiate automatically, access "My Computer," then click on the "install" option.
You can select either "Express Install" or install individual drivers.
Complete the process by restarting your computer to verify that the drivers are functioning correctly.
What Are Some Benefits Of Updating Motherboard Driver?
Updating your motherboard driver can yield several benefits, including:
Supporting new hardware components.
Enhancing PC security and stability.
Improving device speed and eliminating software-related bugs.
Managing outdated and corrupt drivers effectively.
Enhancing overall computer efficiency and performance.
FAQs –
Question: Do you need a motherboard driver?
Yes, motherboard drivers are essential for optimal computer performance.
Question: How do I know if the drivers for my computer are installed?
You can check in the Device Manager under "Driver."
Question: Do updates for motherboard drivers happen manually?
They can be updated automatically or manually, depending on your preference.
Question: Can updating the BIOS fix drivers?
Updating BIOS can address hardware issues that driver updates cannot.