If you want to build the gaming PC or upgrade your motherboard. There are many types of motherboard in the market place. Gigabyte and MSI is the top popular common motherboard and anyone use it for their PC build. So, you must know about the details configuration of your motherboard and which motherboard is the best for your gaming or other high level work like as graphic design etc. Come to the point of their basic details on Gigabyte vs MSI motherboards and which is better performance?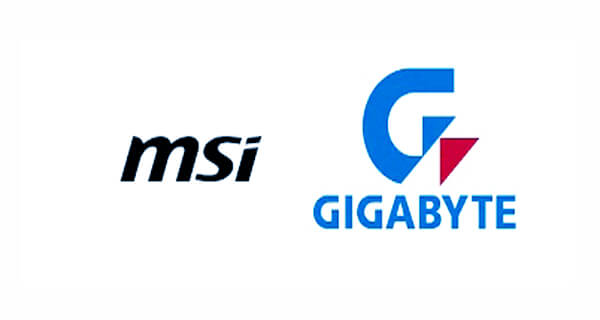 Comparison Table:
| Feature – | Gigabyte Motherboards | MSI Motherboards |
| --- | --- | --- |
| Reputation | Known for Quality & Reliability | Renowned Gaming Focus |
| Product Range | Diverse options for various needs | Extensive Gaming-centric models |
| Unique Features | Advanced Cooling Solutions, RGB Lighting | Gaming-specific software, RGB Customization |
| Performance | High Performance & Stability | Optimized for Gaming Performance |
| Build Quality | Excellent Build & Durability | Robust & Sturdy Construction |
| Overclocking Support | Good Overclocking Capabilities | Strong Support for Overclocking |
| Aesthetics | Stylish & Modern Designs | Gaming-oriented Aesthetics |
| Software Support | Gigabyte App Center & Utilities | MSI Dragon Center & Software Suite |
| Customer Support | Generally Good Customer Service | Strong After-sales Support |
| Price Range | Competitive Pricing | Generally Slightly Higher Pricing |
Main Difference Between The Gigabyte Vs MSI Motherboards:
a) Design –
Gigabyte adopts a more conservative design philosophy, emphasizing durability and functionality. Their motherboards typically feature sturdy construction, reinforced power delivery systems, and high-quality components. While aesthetics are not the primary focus, Gigabyte does offer some models with tasteful RGB accents for users seeking a touch of personalization.
In contrast, MSI puts a strong emphasis on aesthetics and gaming-oriented designs. MSI motherboards often feature eye-catching RGB lighting, futuristic heatsinks, and vibrant color schemes. These visually captivating designs not only enhance the overall gaming experience but also allow users to showcase their rigs with pride.
b) Performance and Features –
Gigabyte's motherboard lineup covers a wide range of chipsets and models, catering to various user needs. They excel in delivering reliable performance and stability, thanks to robust VRM designs and high-quality components.
Gigabyte motherboards also come equipped with innovative features, such as Dual BIOS for added security, Smart Fan for efficient cooling, and Ultra Durable Technology to ensure longevity.
MSI is no stranger to high-performance computing, particularly for gamers. Their motherboard offerings often boast impressive performance capabilities, with a focus on efficient cooling solutions and overclocking support.
MSI's flagship models feature technologies like M.2 Shield Frozr to optimize storage performance, Mystic Light RGB for stunning lighting effects, and Audio Boost for exceptional sound quality.
c) BIOS and Software:
Gigabyte's UEFI BIOS provides a user-friendly interface, making it easy for users to navigate and tweak system settings. The Gigabyte App Center offers a suite of software utilities, allowing users to manage various aspects of their motherboard and system conveniently.
MSI's Click BIOS also offers a straightforward interface with extensive customization options. The MSI Dragon Center software suite acts as a centralized control hub, enabling users to monitor system performance, customize RGB lighting, and optimize gaming settings effortlessly.
d) Overclocking Capabilities:
Gigabyte's motherboard lineup includes models specifically designed for overclocking enthusiasts. These boards feature robust VRM designs and top-quality components, allowing users to push their CPUs and memory to higher clock speeds safely.
Gigabyte's BIOS provides comprehensive overclocking options, making it easier for both novice and experienced users to fine-tune their systems.
MSI takes overclocking seriously, especially for its gaming-oriented motherboards. MSI's flagship models often boast highly advanced VRM solutions, designed to handle extreme overclocking without compromising stability.
Their BIOS features user-friendly overclocking presets, catering to beginners while offering enough control for seasoned overclockers to fine-tune their system's performance.
Read also: Is 12GB RAM Enough For Gaming [8GB Vs 16GB Vs 32GB]
e) RGB Lighting –
While Gigabyte tends to focus on performance and reliability, they do not shy away from RGB lighting entirely. Some of their high-end motherboards feature tasteful RGB accents and headers, allowing users to add a touch of personalization to their builds. However, the emphasis remains on a more understated and professional design.
MSI takes the RGB lighting game to the next level. Their motherboards are a visual treat for gamers, featuring mesmerizing RGB lighting zones that can be fully customized through their Dragon Center software. Users can sync the lighting with compatible peripherals, creating a cohesive and immersive gaming environment.
f) Future-Proofing and Longevity –
Gigabyte's focus on reliability & quality components contributes to the longevity of their motherboards. Investing in a Gigabyte motherboard ensures that your system can withstand the demands of future hardware upgrades. That is making it a wise choice for users looking for a long-term solution.
MSI's commitment to cutting-edge technologies and high-performance components also ensures that their motherboards remain relevant and future-proof. Users who seek the latest gaming features and advanced technologies will appreciate the long-term benefits of choosing an MSI motherboard.
Gigabyte and MSI are both reliable and performance-driven motherboard brands. To find the perfect fit for your computer needs, consider your specific requirements and preferences. Take the time to research and compare models to ensure a solid foundation for your computing journey, knowing that both Gigabyte Vs MSI motherboards have you covered. Happy building!
You may also read: MSI Motherboard Vs ASUS [Difference & Which is better for PC]