ESET Internet Security is one of the best security protection software. ESET Internet Security Free Trial for 90 Days 2021 – Windows, Mac, and Linux. Normally Eset internet security free 30 days trial version officially. But it is now extended to 90 days during the COVID-19 crisis. In this situation, we need to keep safe and protect our data privacy and policy from the latest threats. ESET is the award-winning security software and protects your Windows, Linux, Android, and Mac devices.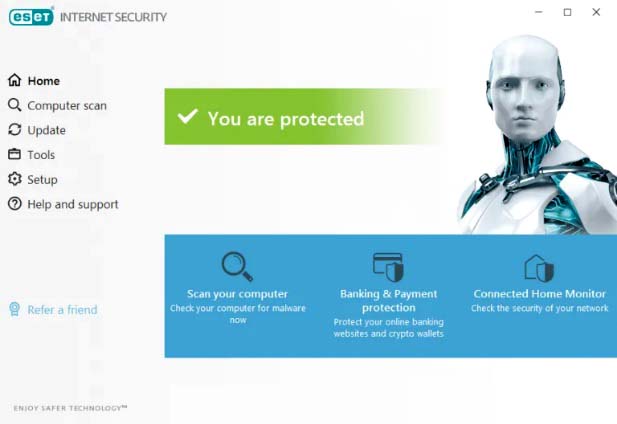 The world had changed rapidly, so need to keep safe from any cyberattack to protect our important data. It protects and defends your Firewall against all types of malware, ransomware, viruses, adware, spyware, trojans, any known and unknown threats online. It also blocked any harmful incoming and outgoing traffic. Keep secure your all online banking transection without concerns. Best real-time file protection with integrated child protection.
ESET Internet Security Key of Features:
– User-friendly interface and real-time protection against all types of threats.
– Automatically detects and removes any viruses, malware, spyware, Trojans.
– Keep safe your device from the Ransomware attack.
– Full control of your Web access and Webcam protection.
– Antispam and Anti-Phishing protection with email protection.
– Parental control protection that blocks any dangerous and offensive websites.
– Banking and Payment Protection helps to protect your internet banking sites.
How to Get ESET Internet Security Free Trial for 90 Days 2023 License for Windows, Mac, Linux:
Go to visit the – Promo Page HERE | Giveaway Page HERE. (Use Google Translator)
After opening the giveaway page, then enter your first and last name, enter your email address, then hit on the "Send Me" button.
Now, check your email inbox and get the registration info.
You can also, download the installer – FROM HERE.
Then, just download the installer and launch to activate automatically Eset Internet Security for 90 Days Trial Version.
Note: Limited time period offer only.
ESET Secure Authentication and Dynamic Threat Detection Extended Trial for 90 Days:
ESET Secure Authentication is the best and most effective way for businesses of all sizes that help to implement the multi-factor utilized system. It prevents zero-day threats with powerful cloud-based sandboxing. ESET dynamic threat detection is the best layer of security protection and zero-day threat detection.
ESET SECURE AUTHENTICATION [Two-Factor Authentication] – Visit the official site.
ESET DYNAMIC THREAT DEFENSE – Visit the official site.